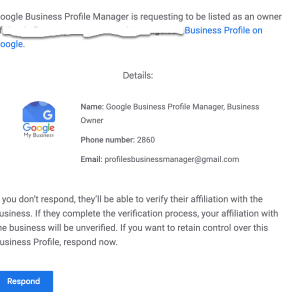 We're seeing an alarming surge in attempts by spammers and bots trying to exploit Google's Business Profile Manager. The common approach is to request ownership of your Google My Business (GMB) profile pages. The threat is real, and it's widespread; we're seeing a massive volume of these requests across all clients.
Here's how it works: You receive an email request for ownership of your GMB page. The email may seem legitimate at first glance, but it's a scheme. Once you accept the request, these unscrupulous actors can gain control of your business listing, which allows them to manipulate your business's public-facing information, leading to a plethora of potential issues including misinformation, fraudulent reviews, or worse.
These emails can be cunningly crafted and persuasive. That's why it's absolutely crucial to be vigilant when dealing with ownership requests. An unexpected request should always raise a red flag.
Teamwork is the key to combating this threat. Good communication across all departments – be it management, IT, marketing, or staff – is vital. Make sure everyone is aware of this issue, and that they know what to do if they receive such a request.
Here are a few steps to prevent falling into this trap:
-Be skeptical of unsolicited ownership requests. Only grant ownership to trusted individuals who need it.
-Implement a protocol for dealing with GMB ownership requests.
-Regularly check the users list in your GMB dashboard to make sure all owners and managers are legitimate.
-In case of doubt, don't hesitate to contact Google's support team.
Security of your online assets should be a top priority. Please share this message to ensure we minimize the impact of these potential attacks.