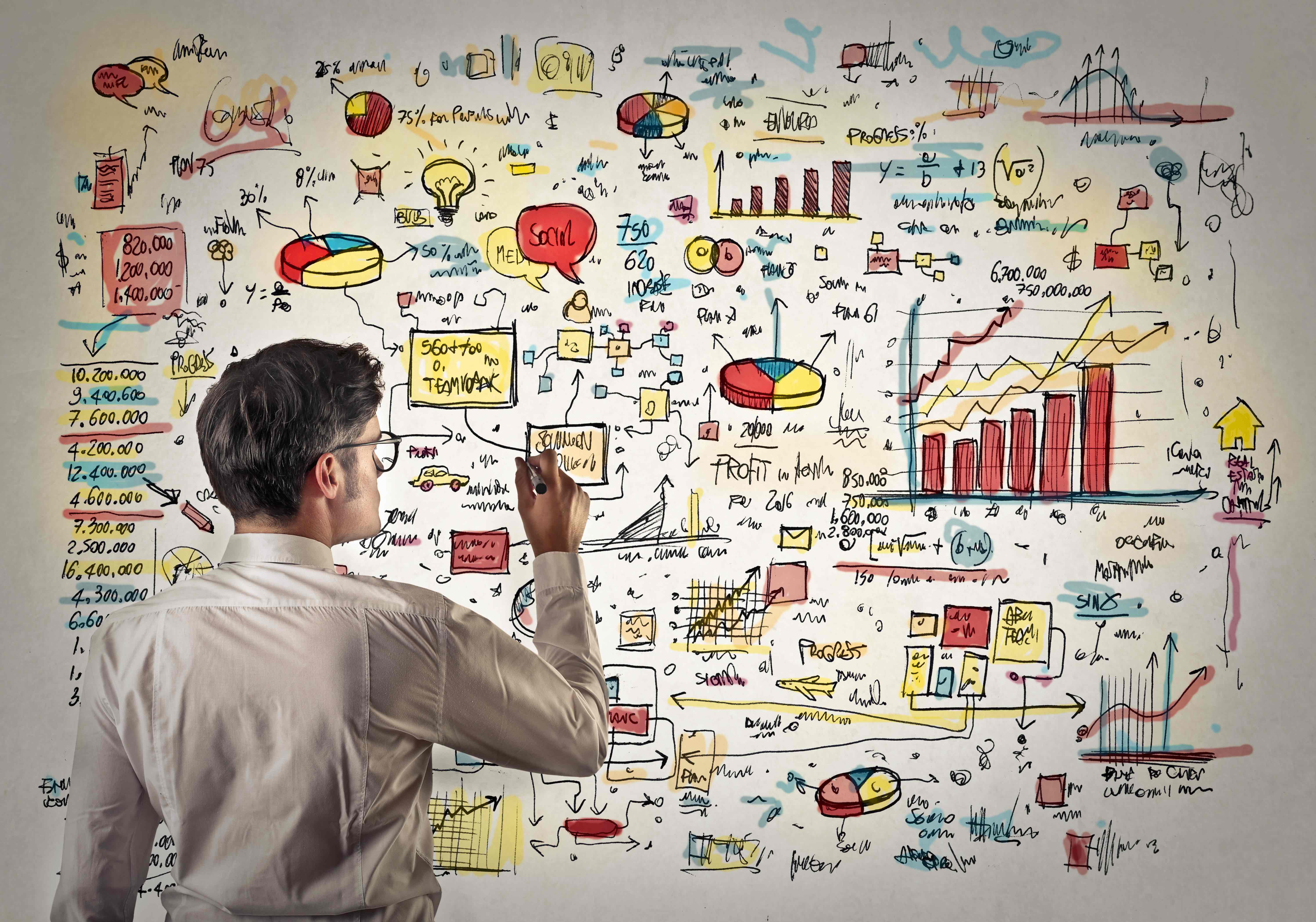 Mind mapping was popularized in the 1970s by British author Tony Buzan and today is a massively popular technique for visual thinking. The concept is simple: place a key idea in the center, branch out to associated ideas, then branch out again in ever-increasing detail. The result is a radial, tree-like structure that's easy to scan and think about.  Since those early days, numerous mind mapping software tools have been created, making the process way more sophisticated. Today, you can change colors and format, add images and videos, engage collaborators, generate presentations, and more.
In this quick guide to mind mapping tools, we'll mix popular "heavy hitters" with lesser-known applications.
MindMeister is a market leader in mind mapping software, with all the convenience of a web-based application. You can use it anywhere on any device, retaining your work across different platforms.
As with all similar tools, you begin with a blank space and place a single thought in the center. This is your "big idea" from which everything else will be derived. Clicking a simple plus sign generates a "child" concept that branches out from the center. To begin with, you might surround your big idea with four or five related concepts. Each of these can have their own "children", and so forth. Formatting is easy because MindMeister provides a menu of options next to your mind map that you can use for changing fonts, background colors, etc. That's where you also add images, videos and more extended notes to your map. Visual customizing options are almost unlimited.
It's the extra features, though, that make MindMeister a powerful tool for personal and group thinking. You can easily turn your ideas into tasks and assign people, prioritize, create due dates, and mark as completed. You can even trigger email reminders. What's more, you can export your mind map in multiple formats. PDF and text might be expected, but MindMeister also exports to rival mind mapping tools, which is smart. And you can generate a slide show out of your mind map. Finally, MindMeister makes collaboration easy, allowing you to add users and manage their permissions. There are good reasons why MindMeister holds the leadership position it enjoys today.
By contrast, Braincat is a little-known upstart with a radically different take on mind mapping. In Braincat, the visual map is not the beginning of your thinking process. It's the end result —one of several possible outputs. That's because Braincat is based on a quite different understanding of how the human mind works. While traditional mind maps begin with a "big idea" and then add increasing detail, Braincat assumes you're starting out with a mass of unsorted stuff — and you don't yet know what the big idea is! That's why Braincat calls its process "reverse mind mapping."  You're going from many to one, instead of one to many.
The key to Braincat is categorizing: deciding what headings to place your details under. You look at each item and ask yourself, "What kind of thing is this?" or "What is this a case of?" Once you've reduced hundreds of bits and pieces to four or five categories, you can take a look at those categories and ask yourself, "What's the big idea?" Now you've arrived at that elusive center of your thinking: and the software automatically generates a mind map.
Braincat is ideal for any brainstorming situation — alone or with others — where ideas are flying thick and fast and you don't want to kill creativity by organizing too fast. The mental process of categorizing gives you a special mastery of your material. And the visual mind map is your satisfying reward. It provides an "aha" moment when you clearly see the hidden structure of your thinking.
Another key feature of Braincat is sequencing. Whether you're writing an article or planning a project, it matters what comes before what. The strength and limitation of a mind map are that it shows everything simultaneously. So Braincat also generates an outline that's sequenced by your choices. That's especially useful for writers, project managers, syllabus writers, and anyone who has to produce something out of their thinking.
For some, Braincat will provide a complete alternative to traditional mind mapping. For others, it will be the perfect complement.
MindNode is another major player in the mind mapping software universe. The underlying logic of MindNode is the same as MindMeister: a radial map with a central idea that branches out to subordinate concepts. The software has powerful formatting tools to make your mind map visually interesting and lots of options for uploading additional content.
Again, though, it's the additional features that make MindNode a leader in its class. One of these is "quick entry" which allows you to drop ideas onto the page without organizing them first. This may sound similar to Braincat, but it's different because in MindNode you drag and link the ideas into a mind map. This works best if you don't have too many items to begin with, otherwise, you'll get visually overwhelmed.
MindNode boasts what it calls an "infinite canvas," meaning your map can expand in all directions way beyond what's shown on the screen. Fortunately, there's a "focus mode" that allows you to look at just one element of your mind map — a single idea and its connected details — while hiding the rest. Upload options include the ability to add an image and capture any text it includes with in-built OCR (optical character reading).  Turning ideas into tasks is also easy, and there are some neat project management tools. Finally, MindNode has a tagging system that helps you find things fast, which is great for a really large mind map on that "infinite canvas"!
TheBrain is all about mind mapping at scale. The fundamental logic is familiar: a central idea with radiating branches and sub-branches. You can link ideas that appear on different branches, drawing a line between them and naming the link. You can also create "jump thoughts" that are not yet connected to the overall mapping structure.
The key distinction of TheBrain is how it organizes large numbers of inter-related mind maps. With a single click, any idea, at any level of the hierarchy, becomes what is called the "active thought."  It moves to the center of your screen and is now the "big idea" for a distinct mind map, with its own subordinate elements. This means that just by clicking, you can generate an unlimited number of mind maps, each centered on its own "active thought" — and they are all interlinked. Every "active thought" can have its own associated notes, links, images, videos, etc. These are accessed in a panel to the side of the mind map.
The intention of TheBrain is to provide a vast digital memory that resembles the way your own brain holds and links information. Needless to say, the success of this solution depends on its searchability. In the side panel, any search term will generate a list of thoughts, links, associated files, or uploads. When you click a result, you generate a mind map with that element in the center. All the material directly connected to your search result will appear with it. TheBrain is an interesting fusion of mind-mapping and digital filing and is used by a loyal following of both individuals and corporations.
In conclusion…
Mind mapping is a powerful way to visualize your ideas and has been adopted enthusiastically by millions of people. Digital applications have greatly expanded the uses of this simple tool, and no doubt the evolution will continue. Conventional mind mapping works best when you can easily organize your thoughts as you capture them, or you only have a few ideas to drag and drop around a screen. If you're starting with a mass of unsorted ideas and information, you might want to explore "reverse mind mapping" as a different kind of process. For maximum productivity, you'll probably want both kinds of tools!