SEO on the Go: Mobile Apps for Internet Search Engine Specialist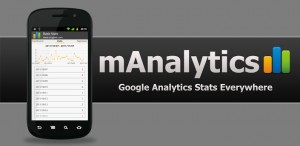 Mobile technology is changing business faster than the Internet did at the time of its birth.  The web opened opportunities for all businesses and even created a few new ones, but with the speed in which consumers are adopting mobile technology the impact on almost every industry is going to be profound. So with apps for just about everything where are the SEO tools?  Sure customers are searching from their phones, their tablets and theirTricorders or whatever but as a search engine optimization professional what mobile tools are available to us?  It would seem there are plenty.
Here are three qualitySEO tools available now for Android users that will help any webmaster keep up with his or her online business on the road or in the yard. Not all of us are road warriors after all but it's still important to keep our finger on the pulse of our business while hanging out next to the pool.
mAnalytics Pro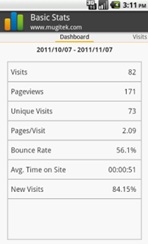 mAnalytics Pro gets straight to the point like few useful mobile apps do. Although the various analyses you can accomplish using this app are significantly less complex than those available on your more powerful desktop mAnalytics Pro is fast and simple. You will probably find yourself using this app even when other software solutions are available because it so user-friendly and quickly meets many common daily needs.  Quickly access the following by date:
Visits
Unique Visits
Pageviews
Bounce Rate
Average Time on Site
New Visits
Data can also be broken down by country, browser, and more.  One I set up my site profiles I was one or two screens away from about 80% of what I need on a regular basis.  Not bad at all.
mAnalytics Pro is currently available for $1.30 at GooglePlay and holds a 4/5 star review with 91 votes. There is a free version of this app that is driven by advertising and it is so frustrating you will very quickly shell out a buck for the premium version.  I tried both and the ads are really too much.
WebRank SEO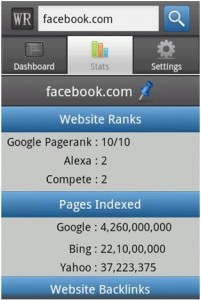 Users of SEOSite Tools for Chrome will be happy to see this app. From the dashboard in the app you can pin various sites that you want to track regularly or you can copy and paste URLs directly into it to get the following information:
Google Page Rank
Alexa Rank
Pages Indexed in Google or Bing
Backlinks in Google, Bing, and Alexa.
Facebook Likes
Tweets
Google+Data
The settings of the app can be adjusted to add or remove Google, Bing, or Alexa from any of the data analyses.  This can help further streamline the reports to just the facts you need.
The app is currently averaging 3.7 stars out of five with 89 votes cast. The reviews on Google Play appear to be mixed with many users pleased and a very vocal minority who are unhappy with the current features of the app. After using WebRank SEO for a few days I find that it does exactly what it says it's going to do quickly and easily. I will continue to use this app regularly. The app is available at Google Play and is currently free although the download page does say the free version is available for a limited time only. Take that for what it's worth.
SEMTab SEO Pro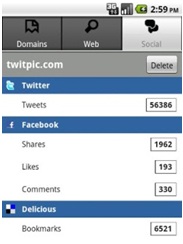 SEMTab SEO Pro is designed to help webmasters keep track of the social signals associated with their website. Specifically this app helps track Facebook, Delicious, Google+, and Twitter activity across one or more sites. Social signals are quickly becoming a very important aspect of search engine optimization so tracking this data is only going to become more critical. SEMTab SEO Pro tracks the following:
Google PR
Facebook Shares
Backlinks
Twitter Activity
Alexa Rank
And More
Available from Google Play for $1.99 this app is certainly worth the price. This will help webmasters keep track of the social aspects of their user's experience and therefore help tune a site to better serve their visitors.This in turn could help avoid issues such as a Panda Update disaster. The Panda says keep people happy and this app can help webmasters figure out what that actually means. After using this app for a couple of weeks it's definitely going to stay on my main desktop.
The three apps discussed above have been on my phone for at least a week. I have found that my use of various software suites has decreased significantly since I downloaded them. Although I can get a much more in-depth data analysis from my trusty desktop software the ease-of-use of these apps makes them very attractive for smaller jobs. If I just want to see visitors for the previous day instead of logging into one two or three accounts I just push mAnalytics Pro and within seconds I have what I need. The same can be said for the other two apps as well, and although there are naysayers out there for myself I recommend them highly.
You can read more from Jon T. Norwood at Internet Service Providers, a site with all you need to know about Internet Service.