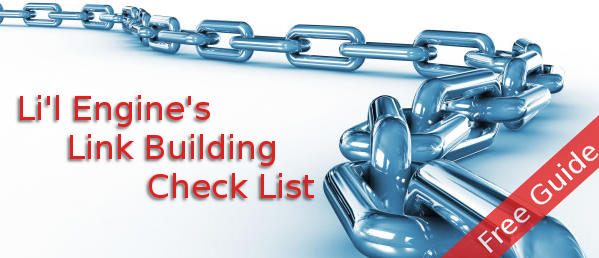 Link building also sometimes goes by the name of "offsite optimization." It is very important to your SEO efforts, and it's also one of the most time and labor intensive. You can't wish other webmasters into linking to your site, and when they do, what anchor text are they using? How will you get inbound links to deep pages in your content?
OK, sure: great content is important. But who has time to wait around for the world to finally discover your great content? You need a great plan to go along with your great content. Consider link building as a vital business strategy for your website's long term success. It has to be integrated into your standard business practice and regularly tended to. Here is a checklist to determine if you're doing what you need to in order to continually build up your constellation of links.
1. The easy stuff. Submit your site to DMOZ and the other standard directories. Submit your content for syndication and submit the occasional press release when it's newsworthy. Create RSS feeds and submit it to feed lists.
2. If you have a mailing list of happy customers, thank them and offer them a free benefit for helping spread the word on a new product page. Give them link text that they can use in their own home pages and blogs. The freebie can be a coupon for free shipping on their next order, a free e-book download, or something similar.
3. Make sure that every page on your site has a "link to this page" box. This will make it easy for people to create deep links with correct keywords.
4. Offer a free web tool or script that performs a service and links back to your site. Make sure you have at least one keyword in the link text.
5. Find out who links to your competitor. Using a backlink competitor tool (as in the screen shot) can help. There's nothing wrong with contacting sites that link to your competitor and asking for a back link. Be polite about it, and you'll be amazed how many sites will agree.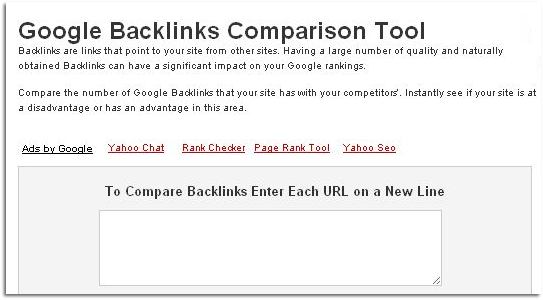 6. Stay away from link swapping and link buying. These practices will hurt your site's PageRank and SERP standing. Link buying can get you banned from Google altogether.
7. Do you have the time to devote to link building strategies? If not, seriously consider outsourcing this work to a reputable SEO business that has a good track record of getting links. If you do have the time, build that time into your schedule, because it is very important to the long term health and growth of your site.
8. Keep a written record of the back links you pick up and what page they link to. This will benefit you in numerous ways. For one, it will help you judge which pages are most popular. It may point up deficiencies in pages that aren't getting much link love, and it will let you know when your pace of back link building lags, indicating that you need to step up the effort.
9. While back links are SEO gold, internal link building is important too. Don't neglect this aspect of your SEO strategy.
10. Make sure there are links to your site on all the social profiles you have for your business or website. Build a link into your email signature, and on forums and comment threads that allow it use a link to your site in some of your comments, but by no means all of them. If comments are monitored and it looks like the only purpose for your comment is trolling for back links (Comments like, "Great post! I hope you'll stop by my site at http://www.myawesomewebsite.com"), then you might get booted off the site.
11. Offer to write a guest post on a blog you admire that's relevant to your website. This is a great way to squeeze yourself some healthy link juice.
12. Don't get links from sites that themselves link out to SEO related sites like link building software, link building clubs, paid link building, and SEO forums.
13. Don't get links from sites that discuss Google PageRank in their ad sections. These have a whiff of desperation about them that Google can sniff out easily.
At the root of all this is knowing why you're building links and what you want to get out of the process. If you do it right, you can get more traffic to your site, better SERP position, higher PageRank, and a healthier bottom line for your business. It's easy to get overwhelmed with all the things a webmaster has to do to keep his or her site in top form and attracting all the traffic it deserves. There's social media strategy that requires time and effort, on-page SEO to be tended to, link building, and all the while if it's an e-commerce site, you have to actually run the business too!
Most webmasters have to map out the tasks specifically: "Twitter / Facebook updates every day by noon; 30 minutes on link building strategy every day after lunch; 30 minutes monitoring competing sites every morning first thing;" etc. So many of these things seem like things you can easily do on the side, but they're important enough to require your full attention, and you could easily let them slip unless you write them into your work schedule. Good content, good strategies, and good discipline are what it takes, and no, there really aren't any shortcuts.