Yahoo! launches new ad platform
After Yahoo! signed the controversial advertising deal with Google a few months ago, some critics denounced the company for virtually hanging the glove and giving the online advertising monopoly to Google. However, with the recent launch of Yahoo!'s new advertising platform called APT, Jerry Yang & Co. seem to be keen on proving the naysayers wrong.
According to Yahoo!, APT is "designed to simplify the process of buying and selling ads online while connecting all the market players — publishers, advertisers, agencies, networks, partners and developers — from a unified platform to do business more efficiently and effectively".
This is what the dashboard looks like: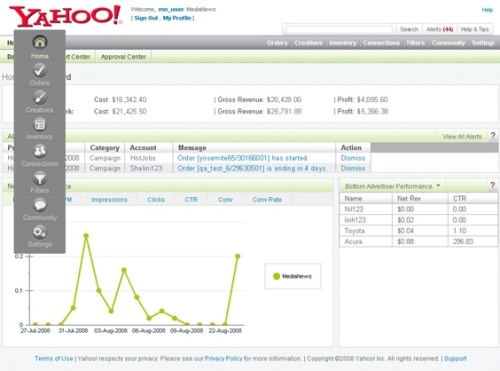 APT uses an auction-based model to automate inventory allocation for efficiency and higher yield. The platform allows a dynamic pricing structure, such that you can choose between offering CPM, CPC, CPA, or other ads, depending on advertiser needs. Its analytics component allows real-time optimization of an ad's creative across all properties, including direct campaign-to-campaign comparisons, and reports on audience reaction. In the future, it claims that it will be able to have the ability to make guaranteed inventory prediction forecasts.
Among the innovations of APT is that it will allow for the cross-selling of ads between sales forces. For those who have been bothered at one time or another by competetive or distasteful ads appearing on their website, APT has quality management tools that let you create appropriate customized filters. Lastly, developers will be happy to note that it is an open platform and the API with be made available soon.
During the first roll-out of the ad platform in the fourth quarter, Yahoo! will team up with newspaper publishers from the Newspaper Consortium, including MediaNews Group. In all, this represents almost 800 news websites. Yahoo! is expected to open the platform to other publishers in early 2009. For more information, go to the APT website.