Press Release Services for SEO and Link Building – Free or Cheap

Online public relations campaigns can be used as very effective off-page SEO. Done well, they can increase targeted traffic to your site. A good PR effort for SEO should include keyword optimized press releases to increase the visibility of your brand in the marketplace and get you more leads and sales.
In the best of all worlds, you would use both "push" and "pull" marketing, where you push your message to the media your prospects tend to use most. The pull strategy "pulls" prospects to your site by making your site more visible in media where your prospects already visit. The end result can be more traffic, higher placement on SERPs, more organic, high quality, inbound links to your site, and press releases being picked up by top industry publications.
You probably already know that there are bunches of press release websites. A lot of them have free basic service, with extra "premium" services you can purchase. You're best off using PR sites (free or paid) that have a Google PageRank of at least 4. PR sites with no PageRank might have been blacklisted for spam attacks, so you should definitely stay away from them. Choose PR sites that allow you to optimize for search engines with anchor text links, tagging, etc. Also choose PR sites that don't use NoFollow tags. You want the search engines to be able to follow the links in your press release, otherwise you don't get a PR benefit.
Perhaps the top two free press release websites are free-press-release.com and prlog.org.
Free-press-release.com has a Google PageRank of 5 and its Alexa ranking is 3,547 (Remember that Alexa Ranking is like golf – the lower the better.). Granted, this isn't the sleekest, best looking site out there, but it does get traffic. The categories are pretty broad, as you can see in the screen shot from the "Computers" section. And some of the press releases are good and some aren't so good. On this site you can place banners pointing to your site on the press release. Since the PageRank is 5, any inbound links you get will be valuable. This site has free basic service, but you can buy "premier" service for $1 per press release or "custom" service for $30 per press release. The custom service gives you extras like active hyperlinks in the news body and absence of advertisements and related press releases when your press release is displayed. You can go to free-press-release.com's pricing and services page to see the details.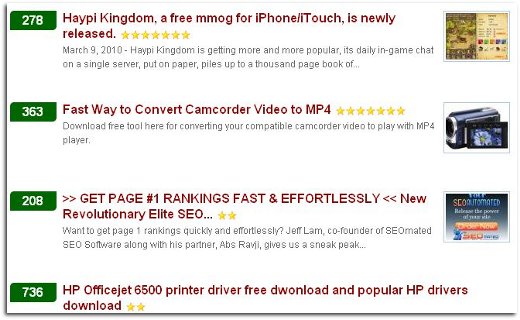 PRLog.org has a PageRank of 5 and Alexa rating of 16,551. It is a straightforward website without a lot of goodies, but it delivers. It distributes free to Google News and other search engines, lets you have links, and is well optimized for search engines. You can also schedule press releases. This is a free-only site, so there's no paid upgrade. The second screen shot gives you a taste of what it looks like.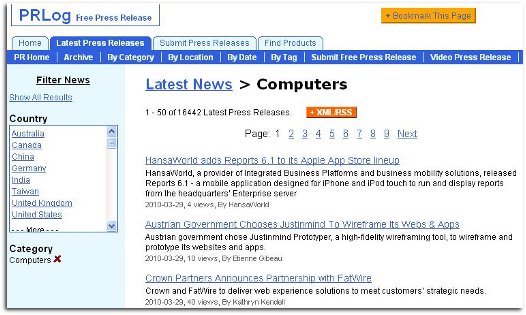 If you plan on going with a paid service from the get-go, then you should consider PRNewsWire.com. It has a PageRank of 8 and an Alexa ranking of 7,508. This is the newswire used by the largest number of journalists. It costs $195 for an annual subscription, and there are add-ons you can buy on top of that. You can see what it looks like in the screen shot.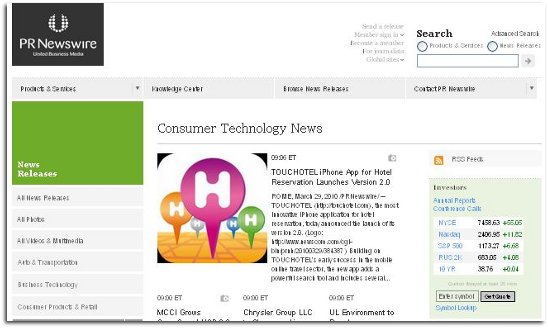 Getting press coverage is more valuable to you than a paid ad. But it isn't an automatic process. When you notice that your press release has been picked up, it's a good idea to contact the journalist responsible for picking it up if possible. You could even offer him / her exclusive releases in the future. Building relationships with journalists and bloggers in your niche is the best way to get the most from your press releases.
But your press releases won't get picked up by anyone unless they actually convey an item of news and are well written. Know what your audience is hungry for. That involves knowing who your audience is, and what tone of press release connects with them better. Your newsworthy item should be relevant, and it should be news, as in, new information. It's a good idea to research trends in search engines, particularly with regard to your industry. Knowing the hot topics and being able to tie your press releases in with them is very helpful in getting your press releases picked up.
Your press release should have a focused topic and keywords so it will rank better in the search engines. It's important to keep it to one topic per release. Don't dilute your key points by trying to get too much across in one press release. It's tempting to want to include every cool thing that's happened, but if you do that, your press release will almost certainly receive less attention.
Images are good for click through rates with press releases, increasing them by around 20%. Images give you more suction with journalists and bloggers who like any extras that are relevant and help get the point across. Those images should have relevant filenames too. People will discover images on image searches, and that will send them to the release and ultimately (hopefully) to your website. If the PR site you've sent your press release to archives press releases permanently, then you're addressing "long tail" image searches as well.
Videos are helpful too. It takes time to add good video to a press release, but when it's done with skill, time spent on the page can go up dramatically. People are embracing a richer media experience, and that includes video. This technique isn't used all that much yet, but media pundits predict that videos in press releases (assuming they're good and actually add to the experience) will become very popular in the future. But right now you can use it to help yours stand out from the herd.
Ideally your press release should have three anchor links: one to your home page; one to a product page; and one to a blog post. Once a reader reaches a blog post, you have a way of interacting more informally and intimately with that reader. All images in your press release should be alt-tagged appropriately. Some sites allow you to customize the URL string, and given the opportunity, you should do so with relevant keywords in the URL string. Your description tag should be keyword rich as well, and of course, the title of your press release, which will become the title tag of the page, is very important for on-page SEO.