5 Major Pitfalls of Magento 2 Migration And How To Avoid Them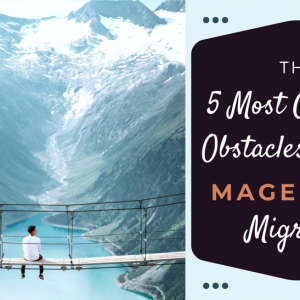 It's June 2020, and the "closing bell" of Magento 1 support termination has rung. Although the deadline has been previously postponed several times, this time it's final: online stores that are built on Magento 1 won't be supported any longer. While they'll still be functioning, they won't be getting any more updates (and YES, this regards the crucial question of security patches and means that such stores will be deprived of new functionality). The bottom line, there's no more time left to put the process off. And due to that, many Magento 1 store owners who haven't begun their migration yet are biting their nails in anticipation of what they are to encounter ahead.
Without a doubt, you won't make it without a devoted team who'll provide you with professional Magento 2 migration services. But what are the possible stumbling points that you can face along the way? In this post, we bring you a detailed explanation of what you can expect and give recommendations on how to prevent unfortunate turns of events.
Why is Magento 1 to Magento 2 Migration Needed?
Before we jump right over to the possible issues that may occur, let's dot a couple of "I's". As stated earlier, there are many reasons why it makes sense to migrate your Magento 1 store to Magento 2. As such, you wouldn't want your website to lack behind in terms of modern features that are so vital in the ever-changing and progressing world of eCommerce. You surely don't want your store to be unsafe either, as you're legally responsible for safeguarding the data and contact details of your customers (data leaks on your fault can result in large fines, that's how it works).
So although the idea of keeping things just as they are for now is tempting (after all, your M1 store works pretty fine as it is), you'll still have to eventually make the move from Magento 1. Of course, this means investment from your side, but it's a great chance to:
improve your site's visual appeal,
get a better store checkout,
make navigation more user and mobile-friendly,
make the store safer,
get an overall better performance both in terms of speed and SEO,
plus, with M2 you can even think in the direction of progressive web applications.
So why later than sooner? Wild guess: because you've most likely heard a lot about the struggles and long time frames that it takes to make the move?
Why is Migration to Magento 2 Challenging?
Fair enough, the process is as far as easy as it can get. Thinking that the migration is some simple copy-paste is a common misperception. The root of the problem lies in the fact that even though Magento 1 and Magento 2 differ in a single digit in the name, these two versions are completely different from each other on fundamental levels. At times migration to M2 can basically mean the same as building the entire thing from scratch (what store-owners often tend to do). It takes a lot of coding, untangling data, bug fixing, testing, upgrading, and implementing custom solutions to get things done the right way.
5 Most Common Obstacles During Magento 2 Migration
The mentioned above are just some of the things explaining why the process is hard, but what can cause serious roadblocks for your worry-free migration?
1. You've Hired the Wrong People for the Job
As simple as this may sound, it's true. Despite the fact that there are many Magento developers out there, finding those specialists who are competent in both Magento 1 and Magento 2 is not an easy task. Especially keeping in mind that, by all means, you want people with previous migration experience to handle your store.
Things can go completely wrong just because those who you've entrusted to work on your case might not have the needed expertise that'll be equal both for M1 and M2, who might not have the necessary knowledge of the core differences between the platforms, and who don't really know how to deliver a seamless migration.
You don't want your store to be the field for trial and error, this is a waste of your money, time, and resources. So how do you choose the right people? Pay special attention to:
the similar migration projects that were carried out by the person or team previously,
make sure they know Magento 1 and Magento 2 equally well,
ask for estimates,
discuss milestones.
2. You Decide to Add on Things On the Go
Avoiding the planning phase as a way to "win time" is a rookie mistake. Making up your mind regarding what you want after the migration process has already started always results in bottlenecks. If doing so, you:
multiply the development time that'll be wasted on building – tweaking – demolishing – and rebuilding,
increase the costs,
jeopardize getting smooth results in the end.
Hence, it follows that with a clear vision of the result and a mapped out journey, you can count on better communication and migration. Tip: get your development team on board as you plan the work ahead, this way, you'll all be on the same page.
3. Your Magento 1 Store Has Incompatible Modules With Magento 2
Practically every store makes use of external plugins, third-party extensions, and even custom modules, apart from the functionality that's offered by Magento out-of-the-box. When it goes down to the work with module migration there are many things to be handled:
getting rid of unneeded plugins;
finding appropriate M2 analogs for the modules that were used on M1;
updating and upgrading the modules;
coping with all module compatibility tweaks.
But these four points only cover the cases when that can be done with the currently used modules. If there are no analogs for them or when there was a custom-designed solution on Magento 1, this may result in the necessity to develop new custom solutions. And custom development takes time.
Moreover, migration is the moment when store owners generally want to recalibrate their website and introduce innovations. Meaning not only the migration of old modules but a pack of new ones that's been added on to the top of the pile, resulting in… Yes, you've guessed correctly, additional hours for implementation, testing, etc.
How can you solve this problem?
Allow your developers the time they need for performing an audit of your current modules.
Don't rush them with finding the best-fit solutions for M2, it's in your interest to get ahold of the top-pick options and tools that'll boost your store's performance.
Don't be afraid to cut loose "dead weight", since a lot has changed since the times when you just built your Magento 1 store, there's so much you won't need anymore.
Listen to the suggestions of your developers, as, for instance, the old module that you believe is vital for running your business shouldn't be migrated at all since it can be replaced with a smarter and more modern way out.
4. Migrating Data Can Get Tricky
The scope of data for migration is much bigger than you think. It's not just the modules, it's not just your product inventory. We're talking about all of your information that has been collected over the years: orders, clients, logs, the list can go on for good.
At times barriers arise when stores have product inventories kept in external custom systems. For such situations, there can be a need in custom transfer logic, and that'll gobble uptime. Other backpedaling situations that could be mentioned include dealing with the required data reorganization or re-systematization. Not to mention the long hours spent on fishing out what to dispose and what to move to Magento 2.
Again, here you can confront multiple progress stoppages. The best advice is to make sure that this stoppage isn't you! Be open to new enhanced solutions as opposed to sticking to the way things were done in the good old days. Ask yourself questions like: "Are logs from 2008 really that important to the business to be transferred?"
5. The Whole Process Takes Much Longer Than Expected
As mentioned before, many things can influence how long the project takes: bad planning, poor team performance, unexpected difficulties with implementing new features, or shifting what's been accumulated over the years. So it's no surprise that the estimated deadlines are often pushed forward. Sometimes this isn't critical. The question is how far are they pushed?
When agreeing with your developers on deadlines, you're most probably counting on them to be met. Most often, expectations might not be fulfilled due to either broken promises or real issues that have occurred in the course of work.
How can this be avoided? Don't forget to be involved in the process after you've agreed on the migration but don't push it over the top. Your presence matters but it shouldn't be distracting. Talk to your developers, ask for updates on what has been completed, request intermediate results, establishing milestones that help a lot too.
To conclude, the idea of moving your Magento 1 store to Magento 2 may be intimidating, yet at the same time migration gives you the opportunity to pick up your online store's game. In order for everything to roll smoothly, be prepared, plan thoughtfully, and find the perfect team to guide you along the way!