Using Twitter to Improve your SERP Standings

This post assumes that you know what Twitter is (a place where you can post 140-character microblog posts) and how to get an account (Just go to Twitter.com and it will tell you how). Twitter is becoming a more important in the world of SEO because now Google is showing "real time" search results from there, as you can see in the screen shot. When you see Twitter results in a Google results page, they update in real time. However, there is a "pause" link at the top of the Twitter results so you can freeze them long enough to get a better look.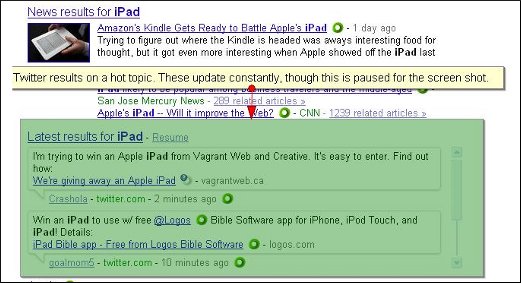 You can use Twitter to let others know what is going on with your website, including promotions, deals, and relevant site updates. You can update Twitter from web-enabled cell phones, iPhones, Blackberrys, and other mobile internet devices. On Twitter, you'll want to "follow" other Twitterers who are interested in what your website's all about. It is easy to find those people. You simply put your search terms in Twitter's search box on your Twitter home page and you'll get current, real-time tweets on that topic. For example, a search on "vintage clothing" brought up a long list of tweets, some of which are shown in the second screen shot. Those might be good people to follow if your website sells vintage clothing.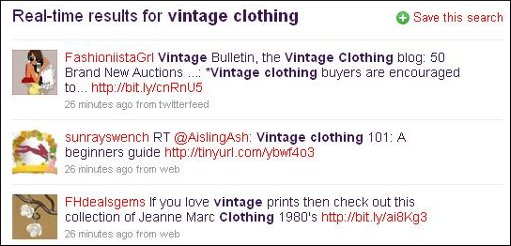 When you choose to follow someone on Twitter, they will be apprised of it and will have the opportunity to follow you with one click. If your Twitter profile makes you look like a spammer, they probably won't follow you back. But if your profile shows that you have something real to say and a website they might like, then you have a good chance of them following you back. The following process builds on itself as others look for people to follow on topics that interest them.
10 tips to help you get the most out of the off-page SEO juice you can get from Twitter.
Put a link on your website saying that you're on Twitter and they can follow you there. Twitter has all kinds of widgets you can easily add to your site.
The bio field on your Twitter profile, which is 160 characters long, should really count. Include your site's top keywords. Because your bio is indexed, the contents are what give your Twitter tweets their relevance. Your Twitter bio is your meta description, so you may want to use a professional description or talk about yourself in the third person. Don't blow it talking about how you love stuffed-crust pizza.
Consider integrating your Twitter URL in your website's Global Footer, which shows up at the bottom of every page of your site. This can help boost your Twitter URL in search engines.
Include your website's URL in your Twitter profile. While this link doesn't give you any "link juice" (since these are so-called No Follow links), they do give people an easy way to get to your website.
The first 40 or so characters form part of the title tag for your tweet. The title tag will also include your account name. The full tweet is indexed by the search engines. Therefore, make those first 42 characters count by jumping right into the subject with keywords.
If you can, start your tweet with one of your prime keyword phrases to give a theme to each message. But don't simply fill your tweet with keywords to the point that it becomes nonsense. Your Twitter title tag consists of <Actual Name> (Username) on Twitter.
Your Twitter title tag consists of <Actual Name> (Username) on Twitter, so try to optimize it. The thing you want to rank for should be the thing inside the <Actual Name> part. You may have to do some thinking to come up with an actual name to go on your Twitter account. Don't change your user name, just your "Name" in your Twitter account settings.
Make your tweets re-tweetable by keeping them shorter than 120 characters whenever possible. This will also depend on the length of your Twitter name, since "RT @yourTwittername" is affixed to the beginning of anything of yours that is re-tweeted.
Twitter internally links followers to your profile. Followers with higher PageRank squeeze a little bit of link juice on you. You'll pick up outside links if you consistently tweet good content. But at 140 characters, it has to be "SEO concentrate."
Every once in awhile put in a link to your Twitter profile on your website. Can't hurt.
And for good measure, here are 5 things that will turn people off to following you on Twitter.
You don't have an avatar. People want to put a face with the Twitterer they follow. A simple head shot is fine.
You follow 50 times more people than follow you and you don't ever update.
Your updates are only ever used to push your products and services.
Your return follow message is obviously mass-produced to pitch your products and services, like "Thanks! How can I help you get the trim thighs you've always wanted?"
You never engage those who follow you on Twitter, and therefore risk being perceived as thinking you're "too good" for your followers or that you only have your Twitter account to push your e-commerce website.
Twitter is just like any other social media tool when it comes to boosting your website's SERP ranking. Don't spam, make your posts relevant, and provide links in some, but not all Tweets. Don't abuse the system, and you'll gain followers steadily.