How to Use Facebook to Market your Business

Using Facebook to market your business is one of the best ideas to come along in recent years. It shoulders some of the advertising burden and connects you with your customers. You have to have a personal Facebook account before you can set up a business account because business pages are created and maintained from within a personal account and has to be accessed via your personal login. If you try to start out setting up a business page, you'll have to set up both at the same time, which is why it will ask for personal information.
Then, you have to become a fan of your business page before it can be seen when you search. But the actual setting up of your business page isn't that hard. There are fields you have to fill in for the description of your business, your mission, how long you've been around, and stuff like that. What are the keys to having a good Facebook page that will serve your business well? Two important ones are accessibility and interaction.
The first screen shot shows part of the "Tips and Tools" page from the Facebook page of Nicorette, a company that makes nicotine gum for people who want to quit smoking. There's an opportunity to share your story if you're trying to quit smoking, and there's a poll. If you were to scroll down further, you'd see that there's a button you can click to get a coupon. So the page's visitors have several chances to interact. The "Wall" for Nicorette has a number of sympathetic tips on how hard it is to quit smoking, etc., and visitors can comment and leave their own words of encouragement.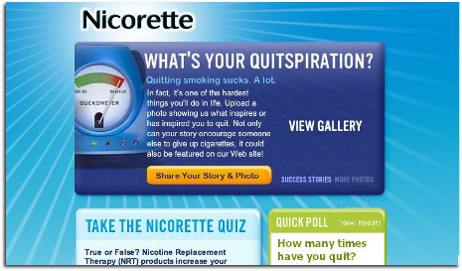 But not everyone has the kind of budget that Nicorette does, but you can still do a lot with a Facebook page for your business. The second screen shot shows the Facebook page of a business that sells handmade clothing and jewelry. It's pretty simple. The Wall is used to post pictures of items for sale, and people can comment on them. The Boxes tab takes you to the page shown in the second screen shot. Again, it's pretty simple, but as you can see there's a link you can click to enter a contest to win a gift card. Links like that get plenty of clicks!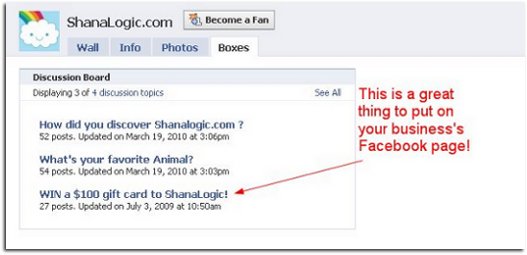 Facebook Apps
Once you get your business's Facebook page up and operational, you can install various Facebook "apps" that will make it more interactive and appealing. You don't have to have a lot of technical expertise to do this, either. They include social games and quizzes that you've no doubt seen if you follow friends on Facebook. While there are dozens and dozens of apps, there are a few top ones. First you need to know that FBML stands for Facebook Markup Language. You use it to add functionality to your Facebook page. The Facebook Static FBML application adds a box on your page where you can render either FBML or HTML to further customize your page.
You can use static FBML to add vertical navigation in the left hand column, which is familiar to most internet surfers. In it you can put links, promotions, and contact details. Add this app to your Fan page as a box, not as a tab. Then you add content to the box with standard HTML. In your sidebar, you might add icons or graphic buttons that link to other destinations your fans might like, such as your website, your blog, or your Twitter account. The sidebar will be visible regardless of what Fan Page tab your visitors happen to be using. When you've added your content and saved it, it will show up as a box on the tab marked "Boxes." From the boxes tab, you can see if your HTML has rendered, and if it has, you can click on the pencil in the upper right hand corner and choose "Move to Wall Tab" to get your content to display in the left column navigation of your page.
People love contests, giveaways, and other promotions, and these are great ways to engage visitors and make them more familiar with your brand. The Promotions app lets you create and publish a contest on Facebook so that it is sociable and easy to share. Now, to use this app, you have to sign up for an account at wildfireapp.com. That's because the content you create stays on the developer's website. After you sign up and connect the app to Facebook, whatever promotions you create on wildfireapp.com will show up on the tab on your Fan page. You go through an easy step by step process to build promotions, where you'll add dates, types of prizes, and entry fields for the entry form. You can also add stuff about rules and even add artwork to your promotions.
The thing about having your contest content housed on WildFire is that you can put it on other social networks as well, and even put it on your own website. Whatever changes you make to the promotions will update dynamically on all the locations where fans and customers interact with you. You should know in advance, however, that it isn't free, even though setting up a WildFire account is free. A basic WildFire campaign costs $5, plus 99 cents each day the campaign is active. There are other WildFire promotion packages too, depending on your ideas an budget.
Here's a great idea if your website includes video content. You can use the YouTube for Pages app to dedicate a tab on your Fan page to your YouTube channel. Again, this involves setting up a free account on involver.com. After it's connected to your Fan page, you tell it the YouTube channel you want to get videos from. Your most recent upload or favorite video will be featured, and there will be thumbnails for earlier videos. The videos play directly on Facebook.
One of the best ways to get feedback on your business is with a poll. It also happens to be a great way to interact with your customers and fans. The Facebook Poll app is extremely easy to use. You don't have to set up any type of third party account or anything. You connect it to your page and all the settings reside in your settings panel. You just set up your poll by stating the question and list multiple answers from which fans can choose. You poll can go on your Wall, on a custom tab, or in your left-column navigation. You can invite friends to answer the poll, and then they can share it. The results are right there on Facebook for everyone to see. Imagine adding a fun, interesting poll every week. You'll give your fans a reason to check back often.