Google Merchant Center – Formerly Google Base

Google Merchant Center is for those who want to submit products and sell them through Google. It used to be called Google Base. Google Merchant Center is where you upload feeds, check item status, and get information about how well your listings are doing. Your products uploaded to Google Merchant Center feed the searches that other people do for products they want to buy. For example, suppose someone wants to buy some dog toys. Starting at Google's home page and clicking on "Shopping," they'll see a page like in the first screen shot. After typing "dog toys" into the search box and hitting enter they'll be taken to a listings page like the one in the second screen shot.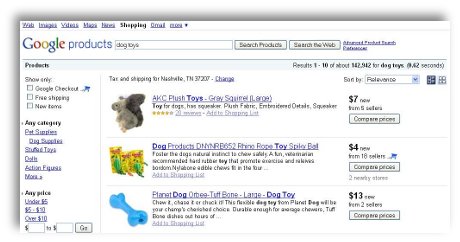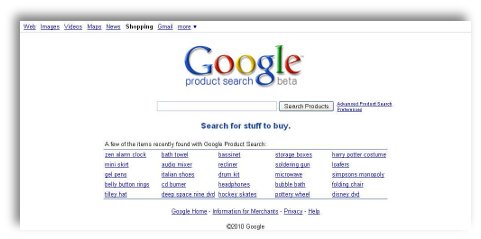 Google Base still exists, but Google Merchant Center is optimized for product listings, and it is where Google will concentrate on adding features and improving the tools needed for uploading product listings and managing them. If you already used Google Base for listing products, your existing data feeds, FTP settings, and other items will still be there. Your account will have already been transferred to the Google Merchant Center, and you will sign in using the same account you used on Google Base. For most users the transfer will be transparent. There are, however, a small fraction of users who have been uploading product listings and other items on Google Base. They will need to sign on to Google Base to create new FTP settings to be able to upload non-product feeds to Google Base.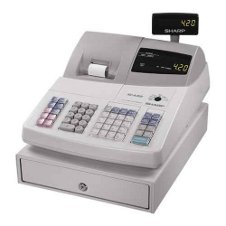 Google Merchant Center has a new dashboard page that contains an overview of your product listings, and feeds, and performance graphs, making them more accessible than before. There is now a blog you can visit, googlemerchantblog.blogspot.com for news and tips for using Google Merchant Center effectively.
If you sell items over Google Merchant Center, the Google Checkout is the secure web application that lets you process orders, which includes tasks like charging credit cards, specifying carriers and tracking numbers, canceling or refunding orders, reviewing payout summaries, and updating Google Checkout settings.
To process orders in the Google Merchant Center, you sign in, review the order, and charge the buyer's credit card. Google will then authorize 100% of the order amount. You are required to charge the order within seven calendar days to be guaranteed the funds. After the order is charged, you automatically initiate the payout process. You have to ship the order within a specified time frame that you agreed to when you confirmed an order so that you will be eligible for the Google Checkout Payment Guarantee. You'll notify the buyer that their order has shipped. There are ways of automating order processing using the Google Checkout API.
If you sell services or goods that don't need to be physically shipped, you have to mark the order "shipped" in order to send the buyer a confirmation email. Some transactions involving digital goods might not be covered under the Google Checkout Payment Guarantee policy.
In processing orders, Google uses automatic fraud risk modeling to alert them to possible fraudulent transactions. If a fraudulent transaction is detected, it is immediately cancelled. In order to protect you and other Google Merchants, active orders from the same fraudulent credit card will be cancelled. Google Merchant also uses industry sources like worldwide fraud blacklists to block fraudulent shoppers from using Google Checkout in the first place.
For example, if Google detects suspicious activity related to one of your orders, it will flag the order with "customer review in progress" status and will perform fraud detection tests on the order to keep your risk as low as possible. Google usually completes their reviews in four to six hours.
You, as a Google Merchant, are able to review credit verification information on each order you receive. You just sign in to Google Checkout, click the order in which you are interested in your "orders" box. At that time buyer credit verification information appears below the buyer's shipping information, including whether the transaction is covered by the Payment Guarantee, the Address Verification System check, the Card Verification Value, or CVV, and Account age shows how long the buyer has been qualified to buy through Google Checkout. If you are concerned about an order, you do have the option to cancel it to avoid the risk of a fraudulent transaction.
Fees for Google Merchants vary by the dollar amount of monthly sales and are reset every month on the 5th. For monthly sales under $3,000, the fee is 2.9% + 30 cents / transaction. For sales between $3,000 and $9,999.99, the fee is 2.5% + 30 cents / transaction. For $10,000 to $99,999.99 per month, the fee is 2.2% + 30 cents / transaction, and for sales over $100,000 per month, the fees are 1.9% + 30 cents / transaction. Orders that ship to buyers in a country different from the Merchant's country will also have an additional 1% processing fee.
If you plan to sell apps in the Android phone market, your transaction fee is 30% of the application price. In other words, if you sell your app for $10.00, your transaction fee is $3.00 and your payment will be $7.00.
Google Merchant Center is an answer to those who want to sell products through Google Products searches. This can be a real sales booster for those who have shops online at places like Etsy. Google Merchant Center is now split apart from Google Base, with the goal of making online product searches more fruitful and online sales easier for merchants and shoppers.