Making your website work – Free Google guide.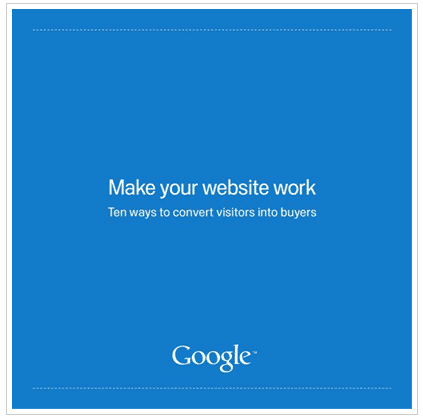 Google Conversion Room released a free online guide titled "Make your website work – Ten ways to convert visitors into buyers", this booklet is a great supplement to our e-Commerce SEO guide posted not long ago.
While the 28 page booklet was launched towards the UK market, the tips offered are universal to successfully convert visitors to sales. The language used in the booklet is easy to understand and written for business owners and non technical users.
The 10 tips offers before and after examples and really simple steps to test, analyze and implement.
Bring me to the right page
Make your homepage useful
Help me navigate
Give me the right results when I search ( internal search )
Display groups of products clearly
Give me the product details I need
Make registration optional
Make it easy to buy or enquire
Reassure me
Find this useful? Let me help!
Head over to the Google Conversion Room blog and check out this e-book, even if you are a seasoned marketer, spending the 10 minutes to read through the tips will be refreshing.