Why Engaging Content is Vital for your Marketing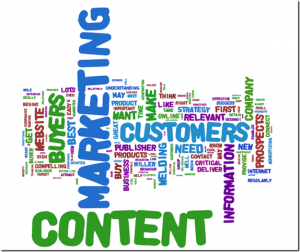 With Google and other search engines increasingly trying to 'humanize' their algorithms so that their preference of websites reflects that of their physical users, there has never been a more important time than now for website owners to make sure that the content they use is fully up-to-scratch.
It is no secret to anybody that Google is a bit of a bookworm, with its head of webspam Matt Cutts frequently using his Webmaster Central vlog to point out that, while intelligent use of images, infographics, videos, and audio files helps a website's ranking, the search engine is still hungriest of all for text.
Content should be viewed as the bricks and mortar of your site. If you view your website in the same way as your house, of course you want it to look pretty and stand out on your street, but there's no point doing that if it's made of sponge bricks and uses porridge as mortar. Nobody would want to visit such a house more than once, and it would fail in its purpose. Aesthetic features on your site should be there to accentuate its solid foundation of content – not in place of it.
With this in mind, let's have a look at what makes top-notch content and how it can encourage visitors to return to your site regularly, keeping both them and the search engines happy.
Making content great
The first step to excellent content is to make sure that what you're writing about is unique, as rehashed content from another site is unlikely to impress. Whether your website is for business or leisure, you are likely to have a sound grasp of its subject matter yourself, so think about what you can do to make sure your site has something that others don't.
Sometimes, what should be excellent content can be let down by poor spelling and punctuation, so it is worth getting a second pair of eyes or a professional editor to look over your content before you upload it. Grammatical goofs are not only an eyesore for your human readers – they're a turnoff for the search engines too.
Using keywords within your content is a great way to draw attention to the products you sell or the subject matter of your website, but don't overdo it. With algorithm updates like Google Penguin more vigilant than ever of poor, keyword-stuffed content designed purely to alert the search engines, it is crucial that keywords remain natural and relevant.
While it may be tempting to slip into advertising mode and talk in a 'salesy' way about your business, remember that your visitors didn't log onto your site to be sold to. Keep things gentle, professional and informative, and, even if the goal of your website is to sell something, your potential customers will find you more trustworthy and appreciate your tone.
Though regular, newsworthy updates to your site are to be encouraged, make sure these are supported by non-time-sensitive content. That way, Google and your users can see that your site wants to keep itself fresh and interesting without immediately going out of date.
Why is this important?
Firstly, strong content is admired by all the major search engines, so this is a perfect way to direct first-time visitors to your efforts. Having attracted visitors, however, how do you keep them coming back? This is, once again, where content comes into its own.
To use another example from the physical world, imagine you see a newspaper or magazine with an attractive front page or attention-grabbing lead story that persuades you to buy it. Then, when you open the publication, you find it's full of poorly-written articles, irrelevant material, spelling mistakes and duplicate content. Would you buy it again?
The same is true online; attracting visitors is one thing, but you need to engage with them to keep them returning. The most foolproof way to do this is to give them what they are looking for and expecting – original, interesting, well-written, relevant content. Don't fall into the trap of misleading people into thinking they are visiting your site for one reason, only to present them with something irrelevant. Sites that go down this route will rarely attract repeat users.
Raising the social stakes
Social media platforms like Facebook, Twitter and YouTube have added a whole new dimension to websites, with liking, following, and sharing meaning that those who put care into their content are more likely to have it viewed by a broad circle of like-minded people.
Articles that interest their readers are sure to do the rounds on Facebook and Twitter, which is why an increasing number of savvy site owners are integrating mixed media, such as videos and images, into their content to grab people's attention quickly.
All this should be done while not losing focus of the readability of your site, and you should always consider whether you find the content interesting yourself. If not, it's unlikely your visitors or Google will either.
---
Darren Jamieson
Darren is the co-founder of UK based content development company Pressroom.co.uk, and has been working within the industry of Internet marketing since the year 2000.