Local Business Directories Yelp, Yahoo! Local, and Bing Local

Local internet business directories can help your business out locally. While you may consider your business to be web-wide, there's nothing wrong with getting the support of the local population, particularly if your business has a bricks and mortar presence too. Even if you do all your work over the web (such as translating documents or writing software apps), there's no telling who might be living in the same area as you who needs exactly the skills your business offers. Don't miss out on local attention thinking that just being on the web will catch everyone. It doesn't take long to sign on to local business directories, and in most cases it's free. Three local directories you should check out are Yelp, Yahoo! Local, and Bing Local.
Yelp
Isn't it a rush to get positive feedback about your business? Well, those compliments can be used to your advantage if you use them wisely. The goal is to not only get compliments, but also get real recommendations that other potential customers can see. That's why local directories like Yelp are so helpful. yelp.com lets you gather good reviews about your company from customers. It is easy to get started.
First, register your business on Yelp by using its business profile directory. You can do this for free at https://biz.yelp.com/signup (see screen shot). The next thing to do – and this is important – is to review other companies and services you've used yourself, whether it's a mechanic, a veterinarian, a restaurant, or some other local business. Keep your reviews positive, which means only reviewing businesses about which you feel positive. If you appear troll-like, you wont' gain any credibility.

The next thing to do is to invite colleagues and friends to comment on and review your business. You don't want a flood of these to come in at once. Yelp dislikes spam, and may construe a dozen glowing reviews your first day as such. Another thing you can do is ask your reviewers to review other local businesses as well so Yelp doesn't think you're coercing people.
You should build a good profile on Yelp, and you need to stay active in your community by reviewing other businesses (Many will reciprocate.) and make your listing more than just a boring list of your services and business hours. Let all your customers know that you're on Yelp and that you'd appreciate a review. This is a good thing to include in your business's email newsletter if you have one. The more you use Yelp's social networking features, the wider a group of people you'll connect with, boosting your presence on Yelp even more.
Yahoo! Local
Claiming your Yahoo! Local profile will expose your business to local clients, and you can use the same information and photos that you use on Google Local (if you have it). You can edit your Yahoo! listing any time with changes to business contact information, business hours, and other important information. You can, if you choose, invest in a local enhanced listing. This lets you add to the basic listing your company logo / tagline, up to 10 photos, a more detailed business description, two customizable links for coupons, inclusion in  up to 5 categories. You can check out the kind of things you get from an enhanced listing from the screen shot.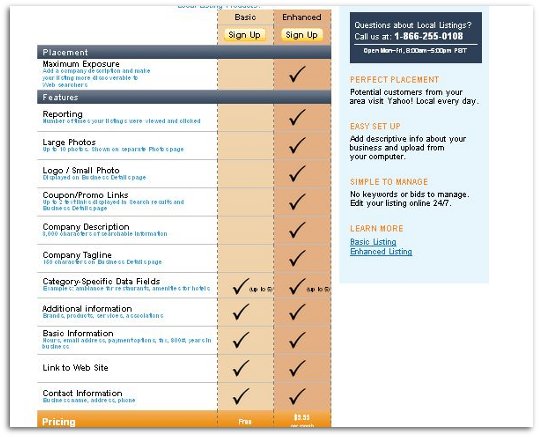 But even the free listing will bring more business your way. Yahoo! Local only lists businesses that serve designated geographic locations in the U.S., so if you're online-only or statewide, then you can't list there. You can improve your chances of your listing being accepted by carefully reading the basic listing requirements first and follow them. Assuming you are able to list there, ensure that the name of your business and your contact information is shown on every page of your website. If you don't have a bricks and mortar store, clearly show how potential customers can make an appointment with you. Keep in mind that it may take up to five ddays for your listing to show up on Yahoo! Local, so don't resubmit your site if it hasn't been at least five days. You can check on the status of your listing on the Yahoo! Local Listings website.
Bing Local
Setting up your local listing on Bing is easy and it's free. The first thing to do is to go to the Bing Local Listing Center, where you can create a local listing. When you start creating your account, Bing asks you for your Windows ID. If you don't have one, you'll have to create one, or you can create one by going to this link before setting up your listing on Bing. You'll have to enter contact and business info, additional phone numbers, email addresses, hours, etc. You'll also get to fill out a long section for information like your company's tagline, brands, affiliations, and a bunch of other things. Try to fill in as many fields as possible, because it's to your benefit.
You can then choose up to six categories in which to place your business based on your associated keywords. Bing has good local search refinement, so you want to take advantage of this by choosing as many categories as you can. After you finish this, you'll have to review your business listing and check that the push pin locator is correct. If so, submit it and you're done.
You might think that these local directories don't make much of a difference, but you'd be surprised. Having complete listings on all the local search providers is good for your business and gives your local customers (and potential customers) another way to find you. Setting up accounts on Yelp, Yahoo! Local, and Bing Local does not take very long at all, and it's a great way to point more people toward your business.