Competitor Research using bit.ly – not just a URL shortener
URL shorteners are sweet, they help turn those really long URLs into nice neat URLs, but besides from this basic service, some URL shorteners also provide great data services.
Have you ever wanted to find out how your viral content is spreading? or how many times your blog post was retweeted, emailed or IM'ed?
Even better, what if you could see this data for your competitors shortened URLs and not just your own? Would this give you an extra advantage above your competitors? Yes I would think so.
So now that I have your attention, lets introduce Bit.ly into the picture.

Bit.ly is a free URL shortening service that also provides some fantastic services and real-time data mining tools. It's benefits include;
Shorten any URL to a clean fixed length URL ( EG: http://bit.ly/8psbh ) when it comes to sharing your content and making it viral, a short URL is always better than a long one for shareability. Also many short messaging services have a word count limitation.
Uses 301 redirects, which passes the all important link juice. Search engine optimization is all about links and content, you have spent the hard work creating your content, now its time to reap the benefits from people that will link to your site. Bit.ly uses 301 redirects which passes the reputation from all the sites that have the shortened URLs in them.
Twitter integration ( Tweet directly via the bit.ly website )
Keeps a history of all your shortened URLS. Very handy to trackback in time and see how your old URLS are performing, some virals take time to develop.
Intelligently use the same shortened URL for the same long URL. Which means you don't end up with a hundred shortened URLs for the same page, which also means the data your receive is a total sum.
Real-time data on click through rates on any URL. For each shortened URL, Bit.ly will give you statistics on how many times your URL was clicked.


Advanced click through, referral and location data. Perfect for competitor and market research.
Advance competitor research using bit.ly
So hopefully now it has dawned on you that using bit.ly you can easily keep tabs on virals and spy on your competitors, lets see how this works.
I have been keeping an eye on a few viral campaigns / linkbaits over the last few months in preparation for a campaign we are creating for a client. All too often we get asked the question from clients;
"How much traffic can we expect to gain from this viral?"
For most marketers its like asking how long a piece of string is, but in this day and age where stats are playing a much bigger role in internet marketing and with the belt been tighter for most businesses, clients will demand the numbers before making a decision.
Using bit.ly you can now have a better estimate of traffic based on campaigns of similar nature by looking at the statistics from already existing virals by other websites.
A favorite piece of viral content is flashbacks / countdowns / lists , you may have seen this viral a few months back titled
"How Popular Website Designs Looked Like In Late 90's"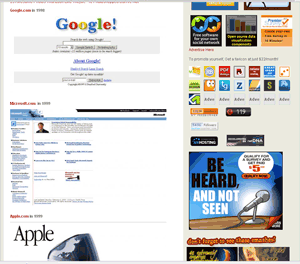 How well did this piece of viral content perform? Lets look at the the traffic for the bit.ly URL http://bit.ly/19YI2D.
We can see since Aug 14th, the viral generated 8,848 clicks via this URL (Fig 2), not bad! We can also see that the U.S. generated the most clicks with over 3,984 clicks, but Bit.ly lets dig a little deeper still.
As with most virals, its intent is to generate a large amount of traffic in a very short period, looking at bit.ly's chart above (fig 3) the viral certainly followed this pattern, but its also interesting to see it continued to generate traffic for a least a month after the launch.
Lets also find out where the traffic came from by the referrals.
The buzz in internet marketing is twitter, and its not hard to see why looking at these stats, over 20% of clicks (fig 4) on the URL came directly from twitter.
Bit.ly also offers a cool add-on that reveals the twitters that tweeted the URL (fig 5), which includes links to their twitter account.
What if you could see which twitters actually tweeted this URL? You could potentially look to reach out to them directly, with the obvious fact they have at least some interest in what you have to offer.
Conclusion
Bit.ly is a great 'free' service that I use on a daily basis to track my social media campaigns, generate new ideas and also research into the competition. However there are limitation to this service, in that it only tracks URLs created with bit.ly, which may not give you the whole picture.
But with bit.ly gaining market share (fig 6) constantly within the URL shortening service and now surpassing tinyurl, you are more likely going to be getting a better picture than any other service, so go ahead give it a try for yourself, I promise you won't regret taking the advice from this post.
Share this post http://bit.ly/1L4251 | Sphinn this