Don't Neglect Your Filters and Sorting Options
On the Ecommerce Outtakes blog, we talk a lot about what not to do online. In fact, our main focus is to point out where websites go wrong—with the intent, of course, to help improve the e-commerce experience across the web. One trend we've been noticing a lot lately is a lack of good filtering and sorting options. It's a widespread e-commerce epidemic, and it's high time we cured it.
Filtering and sorting are huge components to making browsing for products easier, but it seems like many sites—and we're even talking about some big, well-known brands here—are letting these features slip through the cracks. Sure, they exist in some form or fashion: Sort by price, low to high. Filter by size or color. At the end of the day though, these basic options don't always cut it. Here are some examples of bad sorting trends.
One trend is simply not having enough filtering options, like on the 1-800-Flowers website. I found that once I chose a category on this site, from there I could only sort the items by price. There weren't any more filtering options! There were some oddly placed subcategories, but really, 1-800-Flowers could benefit from adding filtering options that are specific to their products. For instance, type of flower, color, or even container (arrangements come in a variety of vases, baskets, and more) would be very helpful. The better a site can tailor the filters, the easier it will be for shoppers to find the products they want.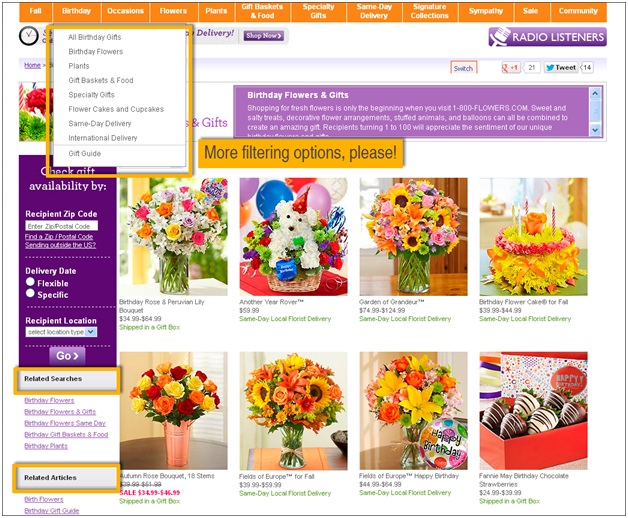 On the other hand, some sites have plenty of filtering options, but they just aren't relevant to the search. You can find an example of this on Best Buy's website. Here, you can filter by current offers, price, brand, color category, and so on. These are all great, but these options don't necessarily matter for every product. In this case, I was searching the Best Buy site for a solid state drive. For a device like that, is filtering by color relevant? Not really. A more helpful option would be the ability to sort by storage capacity, as well as type (laptop or desktop). Again, tailoring the filters would be a lot more beneficial to the shopping experience.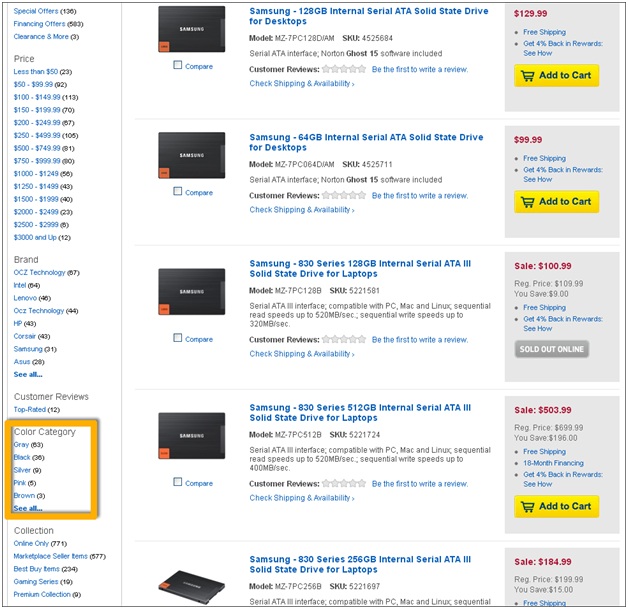 Another filtering mistake to avoid is when the filtering options are not only irrelevant, but don't match the products at all. An example of this comes from Sierra Trading Post, during a specific sale they had before Black Friday. When I clicked on the sale, there were two filtering options available: Sleeve length and style. Unfortunately, the style choices were carry-on, suitcase and duffel. So what are we talking about here, a shirt or a piece of luggage? Mismatched filters like these are not conducive to an easy shopping experience.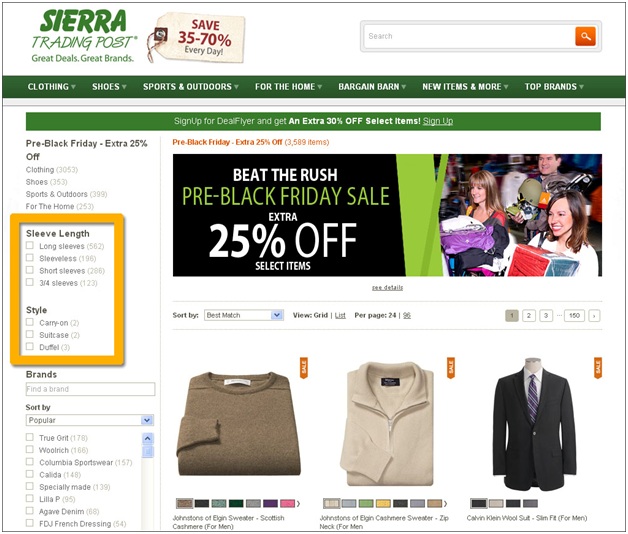 The filtering mistake on AutoAnything was a particularly weird one. This site chose the bizarre method of keeping the filters hidden, which is almost as bad as not having them at all. I had searched for a ski rack on the site, and my initial results page allowed me to narrow by category, price range and customer rating. Then once I selected a category, I was given many more filtering options, including current offers, brand, lock type, mounting design, and capacity range. Now these are very helpful, but why couldn't I see them from the beginning? It's better to provide those options sooner so that shoppers can more easily find what they're looking for, rather than risk a potential customer giving up on their search… and your site.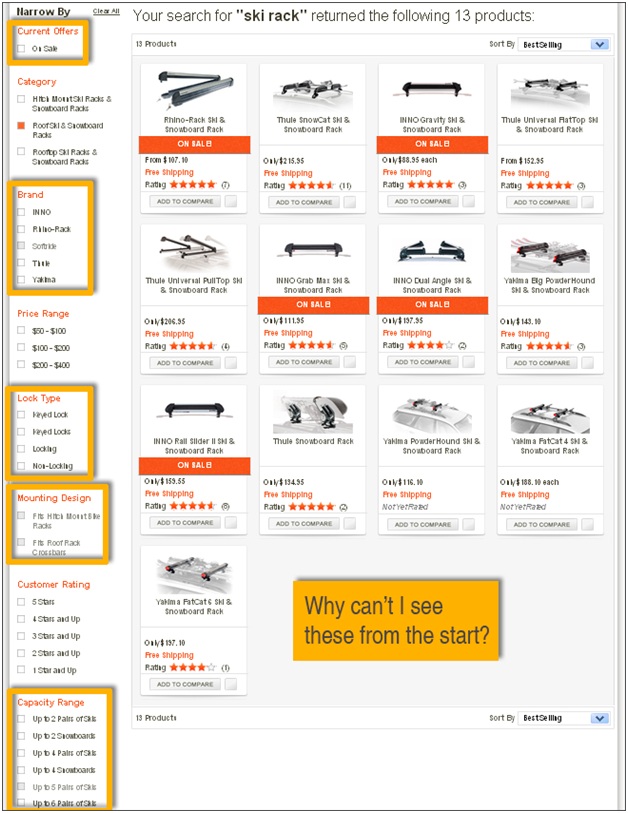 The last bad filtering trend I want to highlight is simply a visual one: Make filters easy to find and read. Seems obvious, right? But it isn't always done, like in the example below from the Urban Fetch website. When the categories are in the same font and size as the products within them, it's hard to distinguish what you're looking at. It's important to set things apart, and make it easy on the eyes. Otherwise, it's almost pointless to provide the option.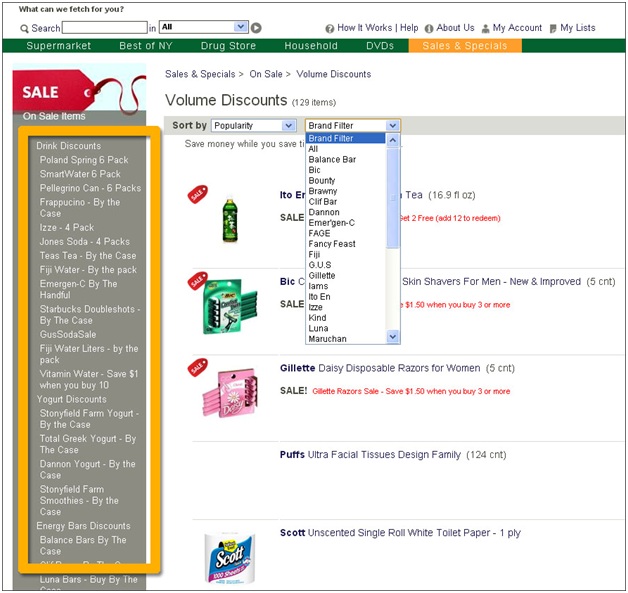 Neglecting your filtering and sorting options is a big don't in the e-commerce world. Tailoring your options to your specific site and products is way more helpful to shoppers than sticking with generic options, or keeping them hidden. It's all about the user experience, so make it a good one to keep people coming back to your site!
Sasha Butkovich is a contributor to the Ecommerce Outtakes blog, which aims to improve usability and the ecommerce experience one blog post at a time. To read ecommerce tips and news, and to submit your own site for a free review, visit EcommerceOuttakes.com.