Optimization for Google Local


Former U.S. Representative Tip O'Neill's famous quote that "All politics is local" can in some cases be applied to internet searches. What it means is, never lose touch with your constituents, or in the case of a business, your customers. If you have a bricks and mortar business and don't sell online, then in your case, "all search engine optimization is local." Local customers often search for local listings, whether for simply the phone number, store hours, or just to find out more about local businesses. If you don't optimize your site for local searches, you could be losing more business than you think.
Google Local Business listings usually only show up when the user types in a category of business and a city. When that happens, Google Maps shows up along with anything up to 10 URLs listed next to their phone numbers. You don't want your competitors to show up on that map with their phone numbers if you aren't showing up there. If you are, for example, a cosmetic dentist in Atlanta, you want local people to find your practice in as many ways as possible: from offline ads, yellow pages, or online searches.
Look at the screen shot for this very search, "cosmetic dentists atlanta." As you can see, several practices are listed, their locations are shown on a map, and their phone numbers are right there. There are plenty of things you can do as a business owner to get local people to find your website and your actual business. For one thing, you can ask for back links to your business from other prominent sites.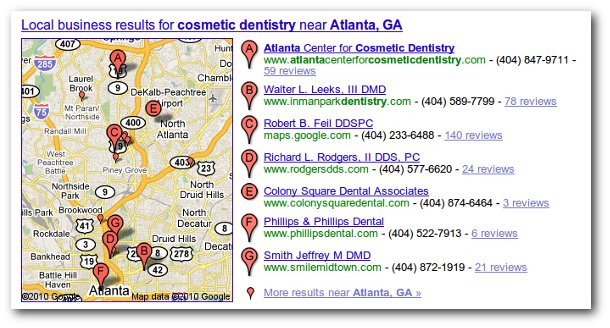 For an example in keeping with the cosmetic dentists in Atlanta theme, suppose you, the cosmetic dentist, were to type in "cosmetic surgery atlanta." You'd get a page like this second screen shot. Suddenly you see, in this case, seven local cosmetic surgery practices from whom you could possibly solicit back links and offer your own back link to their site. Back links aren't everything, but they are important in the world of search engine results.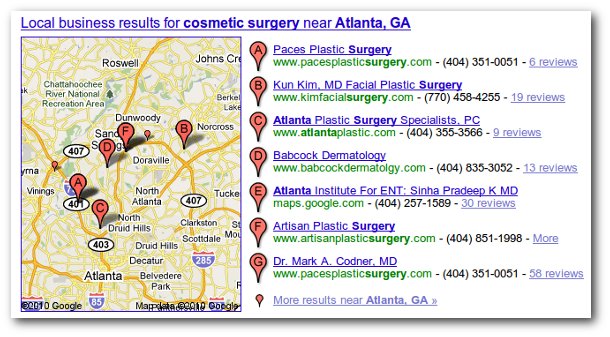 Tips For Optimizing Your Site For Local Results
List your business and website in as many free online directories as possible. There is evidence that Google may use your business's phone number to boost your local ranking, so any time you write a description of your business on a third party site, include the phone number. Also, make sure that all your business listings are as complete and consistent as possible.
If you can include images, coupons, or even a video along with the basic name, address, phone number, and business hours information, so much the better. Use good keywords in your directory listings too. For example, in this instance, good keywords might include "veneers, laser whitening, dental makeover" while the keyword "teeth" would be too broad and vague to help you much.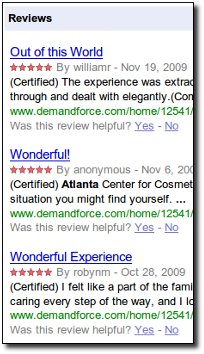 And there's nothing wrong with looking at those local businesses that rank at the top and looking at what they're doing in their local listings. They may be doing something you hadn't thought of, like offering a coupon on their website. Another important factor in optimizing your site and listings for Google Local is customer reviews. Put a link from your site's home page to a directory listing and encourage customers to review your business. The more reviews you get, the better.
In your website itself, include your business name in the title tags, description, and content. Make sure that your site contains the  address and phone number on every page as well as city and state in content, titles, headers, and descriptions.
Claim and verify your business in the Google Local Business Center, and ensure that the information is correct in data providers like YellowPages, Localize, Acxiom, and InfoUSA. These data providers supply many online business directories. If your business has recently moved or changed its phone number, make sure inconsistencies in all listings are fixed. You want all your listings to contain the correct and up-to-date information about your business.
Be sure to claim and verify your listing in directories. You would be surprised how many businesses don't do this. Gain the upper hand by getting there first. Proper categorization of your business in Google Maps can make an enormous difference to the success of your local business listing. Make the mandatory category describe accurately what your business does. Reserve a few of the fields for custom categories that might be unique to your business. Keep your categories from overlapping to get the most mileage from them, and keep categorizing consistent in directory listings and anywhere else on the web such information is found.
With Google Maps, the description field should state what it is that sets your business apart and makes it the one people should trust. You only have 200 characters in which to do this, so you have to be brief: do you have a patent on a technique you use? is your business the oldest of its kind in town? Capitalize on what sets you apart.
You are allowed to add 10 images and 5 videos to your listing, and you should take advantage of this. Pictures that work well for your listing are your business logo, brands you carry, pictures of your business, and logos or badges of associations you belong to, like the local chamber of commerce or the Better Business Bureau. You can even include videos of your commercials or interviews you may have done on local television!
Put your business's name out there on as many internet yellow page (IYP) sites, niche directories, local business directories and other trusted sites as possible. Mentions of your business information on several places on the web will help optimize your Google Local listing. If you haven't taken these steps toward optimizing your Google Local listing, take the time to do so. Chances are you'll see a real improvement in both web and real-world traffic to your business.